Zero Energy Bill Homes in Corby
Imagine no energy bill – Be Part of the Future in Corby, Northamptonshire
Ground Breaking Ceremony at Priors Hall Park, Corby, Northamptonshire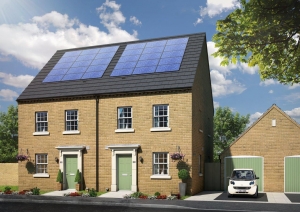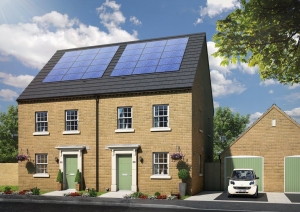 Building work has started at Priors Hall Park in Corby on the first 8 of Electric Corby's new Zero Energy Bill homes – new homes with no energy bill guaranteed for 2 years. And to mark this important development Electric Corby and their partners officially broke the ground of plot 274. The honour was given to the Deputy Mayor of Corby, Cllr Anthony Dady who is photographed with the partners looking on.
Having secured Growing Places funding from SEMLEP last year, Electric Corby has worked with the developers of Priors Hall Park and energy experts to finalise plans for these 3 bed semi-detached homes that have been described as 'traditional with a twist' – traditional in design but with an important twist the latest technology built in for generating and conserving electricity and heat, saving the homeowner an average of a £1,000 per annum in energy bills.
With the addition of a home automation system that enables homeowners to remotely control and manage their homes lighting, appliances, heating and hot water, Electric Corby is guaranteeing that homeowners will have a net energy bill of zero for 2 years* . Thereafter, residents will be well placed to fend off ever increasing energy prices with a home that not only conserves energy better than most, but also generates much of its own needs at no cost to the bill payer.
Electric Corby has worked with leading edge renewable energy technology company Newform Energy and ground breaking home automation firm JSJS Designs to develop a package that makes living with these new ZEB homes entirely familiar but refreshingly future focused.
Picture the difference between a car from the 80's and a car from today – it looks and feels familiar but there are amazingly clever things going on underneath that make it massively more efficient and a real 21st Century experience to live with.
Construction will continue over the winter, with the first homes ready to occupy in the spring of 2014, but you can reserve one now at the Priors Hall Park "Future Centre". And best of all if you're one of the first 2 to reserve a ZEB home, it will cost £165,000, no more than a standard equivalent 3 bed semi-detached at Priors Hall Park.
Joe Dickinson, Project Manager at Electric Corby said; "Although we've been working for 2 years to reach this point the timing couldn't be better as people are faced with ever escalating energy bills Electric Corby is delighted to be offering the choice of a home with no energy bill guaranteed for 2 years.
With Newform Energy, Lagan Homes, Bela Partnership and the backing of SEMLEP and Corby Borough Council we've brought together a strong team to deliver these homes and the unique benefit they offer to homebuyers".
Partners in the project who came together today for the groundbreaking ceremony to mark this key milestone. Those partners included:
 Electric Corby (Project Lead)
Corby Borough Council (Founding partner of Electric Corby)
Bela Partnership (developer and place maker, Priors Hall Park)
Simpson&Partners (Estate Agents and Priors Hall Park Sales)
Lagan Homes (Housebuilder and Contractor)
Newform Energy (specialist provider of renewable energy technology)
JSJS Design (Home automation and management)
SEMLEP (Growing Places Funding)
Alfred Buller from Bela Partnership said "Priors Hall Park is a testament to modern home design and build. Our aim is to build sustainable homes by finding better ways of doing things, both for the future and the present. In partnership with Electric Corby, we can not only drastically reduce our customers energy bills, but also offset our own carbon emission"
John Lagan from Lagan Homes said "Lagan Homes are delighted to work with Electric Corby for this bold and innovating project which be very appealing to homeowners conscious of the ever increasing costs of running a home. We believe the potential for these house types is huge and hope to build upon the strong foundations laid at Priors Hall to replicate this elsewhere in the Borough."
Dr Ann Limb OBE DL, Chair of SEMLEP said "Providing a stimulus for economic activity and supporting sustainable growth is precisely what SEMLEP and the Growing Places Fund set out to do, so I'm delighted we've been able to help partners in Corby deliver both in this innovative construction project."
Corby Borough Council's Lead Member for Environment, Cllr Paul Beattie, said: "We are extremely pleased to be involved in a project that will give homeowners and potential buyers that little bit of extra comfort when it comes to paying the bills. These new homes will not only make the running of a home easier for our residents but is also another way to keep the environment greener."