CHESS-SETUP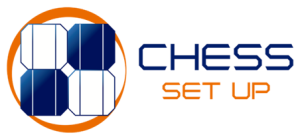 CHESS-SETUP is a Horizon 2020 project that aims to implement a reliable and efficient heating system that will be able to supply buildings via renewable energy sources.
Electric Corby CIC is one of 10 partner organisations from across Europe with Corby set to work with partners in Spain, France, Germany, the Netherlands and Ireland on the new CHESS-SETUP project (CHESS-SETUP being short for Combined HEat SyStem by using Solar Energy and heaT pUmPs).
The reasons for the project lie in the fact that heating accounts for a significant proportion of the total energy demand in Europe – 60% of energy in the building sector is used for space heating and domestic hot water. Therefore it is essential that we provide buildings with renewable heat and hot water.
For the CHESS-SETUP, this will stem from an innovative combination of solar thermal energy production, heat storage and heat pump use.
Not only will the project be involved in the construction and monitoring of three pilot sites to determine the efficiency and success of the combination of the renewable heating system, but a smart control and management system will be developed for the project. This will aim to balance local energy supply and demand through methods such as activating the heat pumps during periods of low energy demand.
Corby will act as one of the three demonstration locations, alongs Manlleu and Sant Cugat del Vallès in Spain. Corby will be receiving funding for the renewable equipment in 47 homes that will be built as part of the Glendale Project in Priors Hall Park.
These homes will include townhouses, 3- and 4-bedroom homes, and apartments, which will allow this renewable heating system to be trialled in a variety of house types. The unique renewable heating system in Corby will store thermal energy generated from PV-T panels underground using an innovative Earth Energy Bank.
Nick Bolton, Co-Founder of Electric Corby CIC said, "Being a part of this project is a big win for Electric Corby and the local community, putting Corby once again at the leading edge in sustainability and innovation. Within this project, once we demonstrate its success we can apply the system in all new homes, including social homes where the benefit of such energy efficiency will be felt most"