Funding & Growing Your Business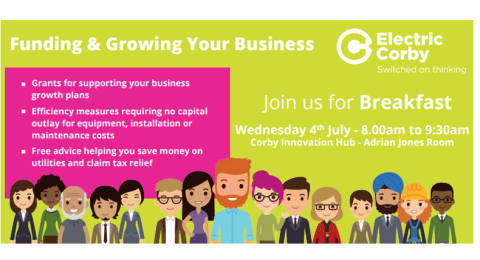 Looking to grow your business in Corby?
Too many businesses in Corby are put-off investing in initiatives that will cut costs and save them money even though they enable an immediate reduction in overheads.
Electric Corby's latest initiative will highlight grant funding now available for Corby businesses, beneficial tax relief schemes and free to install and maintain efficiency measures that can save your business money immediately. The Funding & Growing Your Business event is part of a series of Competitive Corby workshops helping Corby-based businesses to be more profitable, energy efficient and competitive both nationally and internationally.
Electric Corby is a specialist community interest company – formed with the support of Corby Borough Council – to implement low carbon initiatives to drive economic growth. Since 2011, Electric Corby has helped over 300 businesses in Corby with growth support and secured over £4.7m of project funding.
On 4th July, all Corby businesses are invited to breakfast from 8.00am to 9.30am at Corby Innovation Hub.
At this workshop you will learn about:
Grants for supporting your business growth plans
Efficiency measures requiring no capital outlay for equipment, installation or maintenance costs
Free advice helping you to save money on utilities and claim tax relief
Network with like-minded business managers and discover the wide array of options available to you – no matter the size, or sector, of your business.
Nick Bolton, from Electric Corby said "The competitiveness of our businesses has never been more important for the strength of our economy. By reducing overheads companies can boost their competitiveness, but, all too often it takes money for businesses to make the changes needed to save money. We're excited to shine a light on the cost-free funding and efficiency measures that Corby businesses can take advantage of today enabling them to invest more in the business activities that will boost productivity and drive their national and international competitiveness"
If businesses are not able to attend this event, they can always contact Electric Corby for support and advice or attend future briefings publicised through www.electriccorby.co.uk/events
Media contacts
Nick Bolton: nick@electriccorby.co.uk or 01536 560222