Corby is a District of the Future
Electric Corby has secured further success for the town by winning a major EU funded project on energy efficiency that will see the CIC and the EU invest nearly £500,000 in Corby as part of the £5m project over the next three years.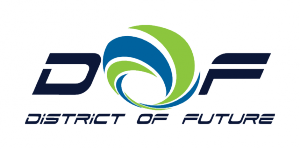 Corby is one of three demonstrator locations with Sabadell in Spain and Orleans in France, who are part of a consortium of eleven partners across Europe working to achieve a 30-40% reduction of greenhouse gases and energy consumption. The project being led by global telecommunications giant Telefonica, who own UK mobile operator O2, starts by analysing the energy efficiency of different buildings to assess the effectiveness of different features in different locations. This data will be transmitted to a central data platform where it will be analysed to help shape the ideal District of (the) Future.
Electric Corby will be contributing energy and use analysis of their new "Zero Energy Bill" homes being built at Priors Hall Park as well as from other Corby buildings, including RCS warehouse that has a Solar Photovoltaic (PV) array on the roof, Oakley Vale School with a biomass boiler together with PV and solar thermal panels, Corby Business Academy and the Corby Town Football Club.
Joe Dickinson, Electric Corby Co-Founder said "This is fantastic recognition for Electric Corby and the town. It shows how far we have come, being selected as the UK's representative for this important pan European Project and being seen alongside major European cities such as Sabadell and Orleans. This project will help our learning for future energy efficient development, be the start of more collaborative European Projects in Corby and most importantly help our promotion of the town."
Nick Bolton, Electric Corby Co-Founder added, "Our new Zero Energy Bill Homes that were critical in our selection can now be viewed at Priors Hall Park as they near completion. Moreover we still have some left available to buy, but they are proving very popular so anyone interested should contact the Priors Hall Future Centre on 01536 214214"